Numerical simulation of manufacturing process is playing an increasingly important role in companies strategy. We have listed the main softwares used in various industries (hot forging, plastic injection moulding, metal casting, additive manufacturing, welding, cold forming process, ...) plus CFD multiphysics codes and also Websites dedicated to process simulation. We hope that this list will be useful.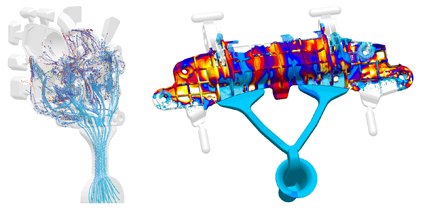 Injection moulding process simulation
Polymer and CFRPs

Casting process simulation
Sand casting, high pressure die casting, gravity die casting, investment casting, ...

Forging process simulation
Hot forging

Cold forming process simulation
Sheet forming, ..

Microstructural and phase diagram simulation
Microstructural evolution, material properties, material database, thermodynamics and phase diagram calculations, ...

CFD (Computational Fluid Dynamics) softwares
Heat transfer, free surface, monophase or multiphase, particle flows, fluids interactions, combustion, multi-physics

Additive manufacturing simulation
SLM, EBM additive manufacturing

Websites and magazines
Website, magazine, ..., trade fairs dedicated to simulation process softwares


Welding process simulation
Welding and assembly processes

Others
Internal combustion engine, crash simulation, ...


Find all the articles on foundry process simulation posted on this blog.


This list is not exhaustive, and things move fast enough. If you want to add your company, or specify informations, please contact the Blogmaster (with commercial software and Website link). We don't compile pure academic codes.